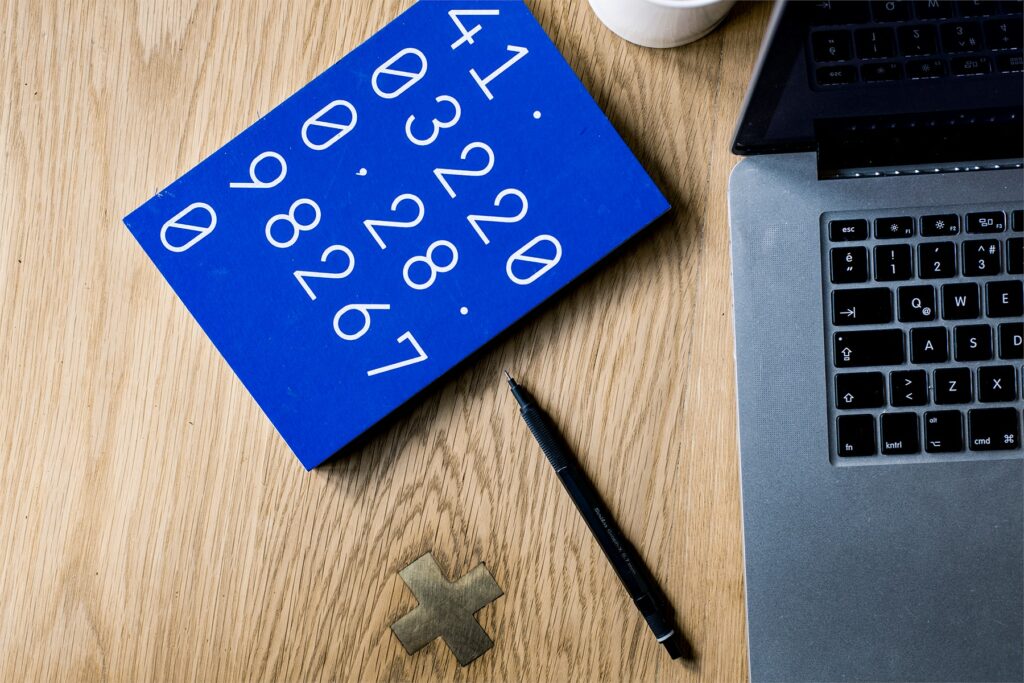 The COVID-19 pandemic has fundamentally shifted companies' working models. If, before the global pandemic, only a tiny percentage of employees worked remotely or a few companies had implemented a hybrid-working model, it has become the new normal.
Enterprises seek flexibility and desire to reduce business expenses. Companies using an on-site working principle or hybrid–working model can save their costs by reducing the number of office desks and sticking to a hybrid–working model. In other words, such an opportunity means having fewer office desks than employees when office workers can reserve the free desk and be aware of the availability of the office workspaces.
Seeking to help organizations reduce business expenses, TableAir provides solutions for companies and office managers, offering a desk booking system and Office Expenses Calculator that helps count your savings on office costs.
How Does the Desk Booking System Work?
Would you like to bring flexibility and a sense of freedom into your office and simultaneously minimize your real estate costs? Create a hybrid–model working environment using the innovative desk booking system.
The desk booking system is a cutting-edge solution for your office based on analyzing and tracking office space usage that reduces business expenses. By implementing the unique software system, your employees have the autonomy to reserve the available desk and the power to manage their workday.
The desk booking system can be used with the mobile application or website dashboard or can be fully automated – you can automatically book or release office desks or meeting rooms using the TableAir office sensors on your desks. The system can track desk occupancy, auto-book, and auto-release the desk if no one shows up.
The system allows tracking and analyzing the gathered data insights and efficiently manages the workplace, reducing office expenses. It is also beneficial to track bookings and actual presence in the office and see how many ghost bookings there are. Various surveys showed that at any time given part of employees are absent from their workplace, and using the absence can save up to 50% on annual workplace costs.
Office Expenses Calculator: The Case Study
We introduced the Office Expenses Calculator that allows you to see the result-driven savings your company can make while implementing the desk booking system.
Office Expenses Calculator is a valuable tool to calculate how much it costs to run an office per month and how much a company can save annually using a desk booking solution. Simply enter the following needed information:
The number of employees
Monthly office cost
Remote days per month in your company
And the calculator will automatically provide you with the results –  desks needed for remote work, solution cost per month, and the amount you can save monthly and yearly.
How Does a Desk Booking Solution Help to Reduce Business Expenses?
Let's have a case study of a company – X. For instance, the organization has 100 employees and pays 10 000 euros per month for the office. As the company uses the hybrid – working model, the employees work remotely 2 days per week which is 8 remote days per month.
When we added these numbers to our calculator, we got such results:
The company needs 73 desks when working remotely instead of 100;
The desk booking solution will cost 219 euros per month for the company;
The company will save 2 481 euros per month with the desk booking system and 29 772 euros per year.
As we can see from the results, company X saves up to 25% of annual costs for office expenses with the TableAir desk booking solution when working remotely 8 days per month.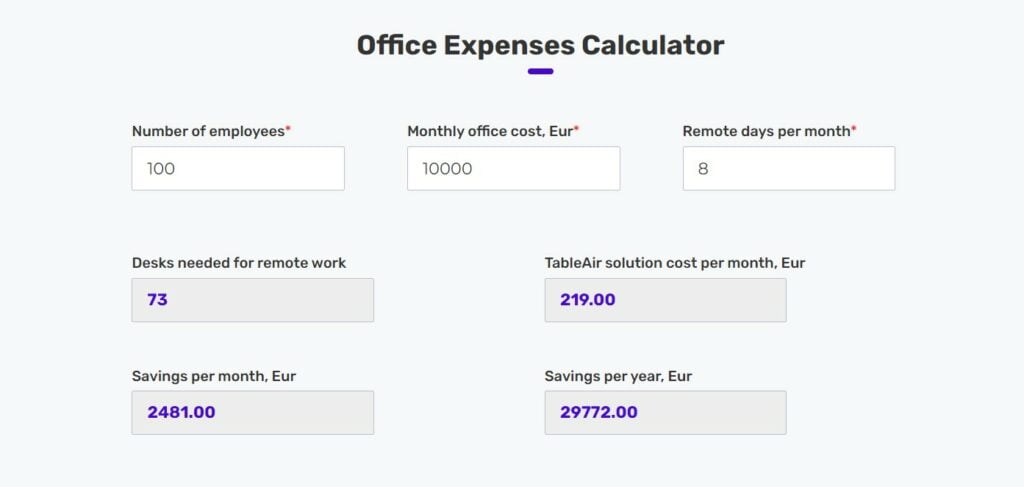 Benefits of the Desk Booking System
The TableAir desk booking solution cost is based on the number of desks in the office, not the number of employees the company has.
The solution's price is 3 euros per resource (office desk). For example, if the company needs 73 office tables, the price for the desk booking system is just 219 euros per month. By paying 2 628 euros per year, the enterprise saves up to 25% of annual office costs.
The desk booking system not only reduces business expenses but also contributes to the many innovative solutions, increases the well-being of the employees, brings team spirit, and makes the workplace smarter.
Increases the autonomy and mobility of the employees
It can improve the well-being of the employees because of the flexibility of the office desks. They can collaborate on team tasks easier and provide more productive work. Such an environment brings freshness to the office and other various cons rather than in traditional settings.
Removes the clutter
TableAir desk booking solution is carefully thought through and provides a smooth working system without unnecessary clutter.
Each office desk can have a particular sensor that automatically books desks when someone shows up and auto-releases them when employees leave the desk for a longer time. It is state – of art solution that is easy to use for every employee of the company.
Reduces the workplace hierarchy and enhances networking
Shifting office desks makes the workplace hierarchy flattered, and employees feel more accepted and equal. It also improves communication and networking in the organization as individuals in decision–making positions have a chance to understand and communicate more with employees. Desk-sharing solutions enhance the motivation of employees, make collaborations more effective, and save the office space required per person.
Tracking and analysis of the workplace efficiency
TableAir desk booking system allows the transparent tracking of bookings and data analysis. It provides valuable insights and recommendations to boost efficiency, reduce business expenses and facilitate new office layout decisions.
3 Tips for an Effective Desk Booking System Use
The process of seamless desk booking solution implementation can be challenging. Before using the shared desk system, a few valuable tips should be considered.
Fully integrated system
The traditional and standalone desk booking systems can cause additional costs, double booking, or no-shows. A practical desk booking solution must be fully integrated and work seamlessly with other workplace management systems and business applications.
TableAir desk booking system can be implemented with no additional staff training. It will not bother your IT team unnecessarily because it is compliant with business applications, and bookings can be made quickly and without pitfalls.
Easy to use and available for self-manage
The desk booking solution will be beneficial if employees can self–manage because it gives them autonomy and better control over their work. When office workers can view and book their workspace, they have greater control over where, when, and with whom they work. The system will be easier to integrate when it is easy to use.
Pay attention to your employees' needs
A one-size-fits-all solution is not an effective strategy because it serves no one. Your company should listen to employees' needs, concerns, and feedback. Such an approach will help collaborate and establish a desk booking system more smoothly.
To Reduce Business Expenses – Mission Possible
The demand for intelligent desk booking solutions is increasing. It will tend to grow in the future because companies and employees value flexible working environments, a hybrid–working model, and innovative, intelligent office solutions where they work faster, better, and with more motivation.
TableAir desk booking system reduces office expenses, improves space utilization, boosts employees' motivation, and allows you to track and analyze the results for better efficiency and smart office solutions.