"Table Air gives the whole team visibility of where others are at any given time and allows us to assess how the flexible working scheme is being utilized by staff."

chapmanbdsp is a building service and environmental engineering company that has delivered world-class projects in more than 30 countries and has offices in London, Birmingham, Kent, Dubai, Abu Dhabi, and Riyadh. For nearly 50 years, chapmanbdsp has partnered with clients across various markets, including commercial offices, residential, education, retail, leisure, and healthcare, delivering projects ranging from large mixed-use regeneration schemes to one-off private homes.
chapmanbdsp's goal is to design not only beautiful but also sustainable places that protect people, nature, and the planet. The company applies the same mindset to their own business and understands that the most valuable asset they have are people. That is why they sought to create a healthy, safe, and convenient workplace. They worked on prioritizing the health and well-being of employees, aligning real estate, operations, and human resources under a shared vision for well-being. chapmanbdsp pursued that all their offices would meet the highest standards according to the Well certifications roadmap for improving the quality of air, water, light, design, and operational strategies.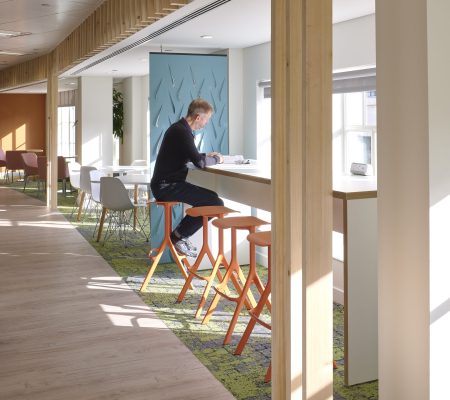 chapmanbdsp wanted to understand their employee working patterns – how many and when people choose to work remotely instead of in the office – and to use the insights to develop a more convenient workplace for employees while utilizing the office space. The company decided to use both the website and the mobile app, and they chose the QR code check-in module for office desk booking management. After the implementation, employees could reserve the desk they want in advance using their mobile phone or find it using the dedicated company URL through the web application. After they had arrived at the office, employees could find their reserved desk using the office floor map on their smartphones, while also being able to check into their workspace by simply scanning the QR code found on the desk. This feature helps to identify no-shows, analyze work patterns, and empower employees to manage their workday.
To make hybrid work easier, chapmanbdsp decided to use a remote work solution – a mobile office. Whenever employees choose to work remotely, they can simply use the TableAir remote work system through a smartphone or web link and book the time they will be working remotely. This feature helps colleagues and managers know when and how the employees work.
Office locations
in 2 countries
Desks managed
with TableAir
Remote work spaces
in mobile office
TableAir has enhanced our existing flexible working processes with staff able to reserve a desk in any office globally or, in fact, book a desk in a Remote Office when they intend to work from home. This gives the whole team visibility of where others are at any given time when they need them and allows us to assess how the flexible working scheme is being utilized by staff.