Global Processing Services
"The effectiveness of the solution in London
allowed us to expand the tools to our other
global offices with minimum effort."

About Global Processing Services
Global Processing Services (GPS) was founded in 2007 and since has become the trusted go-to payments processing partner for leading challenger brands. GPS is certified by Mastercard and Visa to process and manage any credit, debit, or prepaid card transaction globally, with offices in London, Newcastle, Dubai, Singapore, and Sydney.  With a highly flexible and configurable platform, GPS places control in the hands of global fintech, digital banks, and e-wallets, allowing them to provide a rich functionality to cardholders.
As Global Processing Services grew, they decided to open a new office in London. Since the company practices a hybrid working model,  it was planned to have fewer desks than employees and adopt the shared desks policy. The main challenge was to manage space allocation and bookings; therefore, the company decided to adopt a single cloud-based space management solution. This way, GPS sought to empower employees to manage their own work day and choose where and when to work.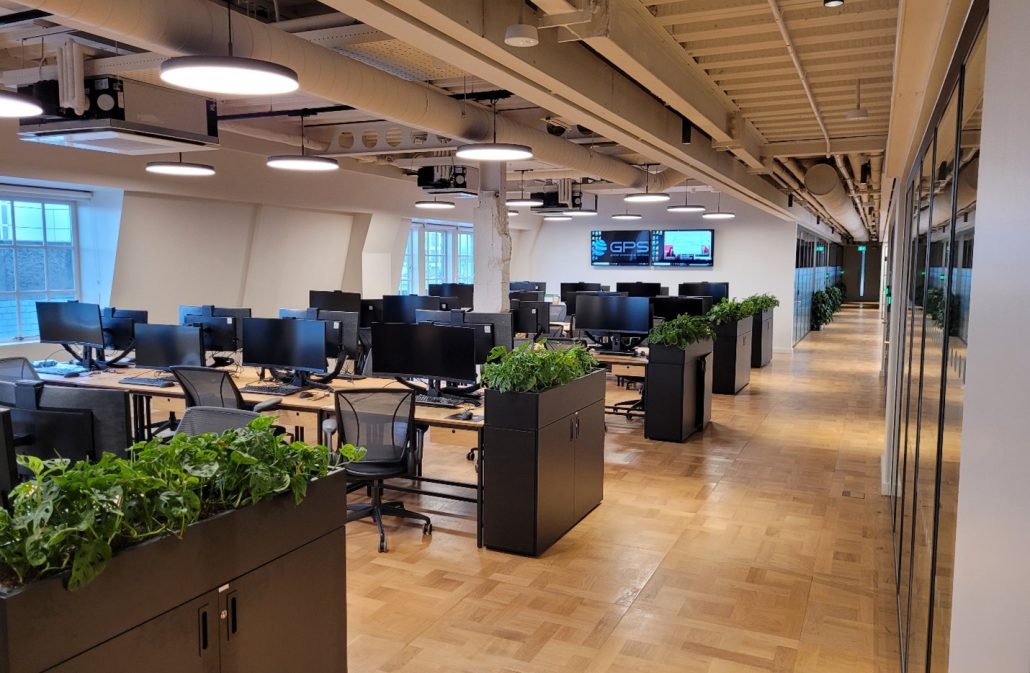 The other challenge was proper meeting room management. Most of the meeting rooms in Global Processing Services had been booked at the same time but with a high proportion of no-shows. It was crucial to operate with room bookings smoothly and solve the room availability problem if no one showed up.
Global Processing Services Goals
TableAir desk and meeting room booking solutions were implemented in the new office, which granted Global Processing Services the power to control all bookings with only one solution. GPS had decided to use both website and mobile app together with the QR code module to ensure efficient usage of reserved desks. The software was used to find available desks and book them, while the QR code module assured that employees were not only reserving the desk but also checking in. This feature helped track all check-ins and no-shows, analyze them and make valuable decisions.
The meeting room solution was integrated with Global Processing Services Microsoft Outlook tenant for easier management. For a better employee experience, GPS had decided to use meeting room displays, showing room availability from afar and letting employees check the meeting information or book a meeting on the spot. The company had also used sensors in the meeting rooms to track activity and fully utilize office space. The sensor automatically released the room if no one showed up for the meeting or auto-booked the room if someone popped in for a short spontaneous meeting without a reservation.
An additional display – a kiosk, had been placed in the lobby for employees and office visitors to quickly find a way to a specific location or a colleague.
Office locations
in 2 countries
Desks managed
with TableAir
Meeting rooms managed with TableAir
Displays and
office sensors
Office space is expensive, and we realized early-on that the way we would work in the future is changing. GPS wanted to develop an office for the future by selecting and utilizing the best technology for our flagship headquarters in central London. We needed to ensure ease of use was paramount, with simple interfaces for staff, but be able to maintain a granular, secure level of control of these resources. Although TableAir was an unknown entity at the beginning of our search, from our earliest contacts, TableAir has provided a professional, friendly, reliable service. They remain reactive to issues and provide technology that seamlessly integrates with our other office technologies. The TableAir technology teams remain agile which allows them to identify and deal with issues efficiently and effectively. The effectiveness of the solution in London allowed us to expand the tools to our other global offices with minimum effort. We are working closely with TableAir to utilize the data produced by booking systems to add further value by identifying usage trends and ensuring the HR teams can help ensure we get the most value from our office investments.